Have you ever heard of a honeynut squash? I surely hadn't until I came across it at Trader Joe's recently. It is so cute and caught my eye because it looks like a baby butternut squash! (see picture below for honeynut squash vs butternut squash size comparison)
What is a honeynut squash?
After doing some research aka googling, it turns out that a honeynut squash has a deeper and slightly sweeter flavor than a butternut squash. Now, butternut squash is actually probably one of my favorite ingredients to use during the Fall, so reading that a honeynut squash was basically a more flavorful, condensed, and sweeter version of it, was ultimately what inspired me to turn it into the perfect fall breakfast! I mean, why not? It's creamy, comforting, and delicious!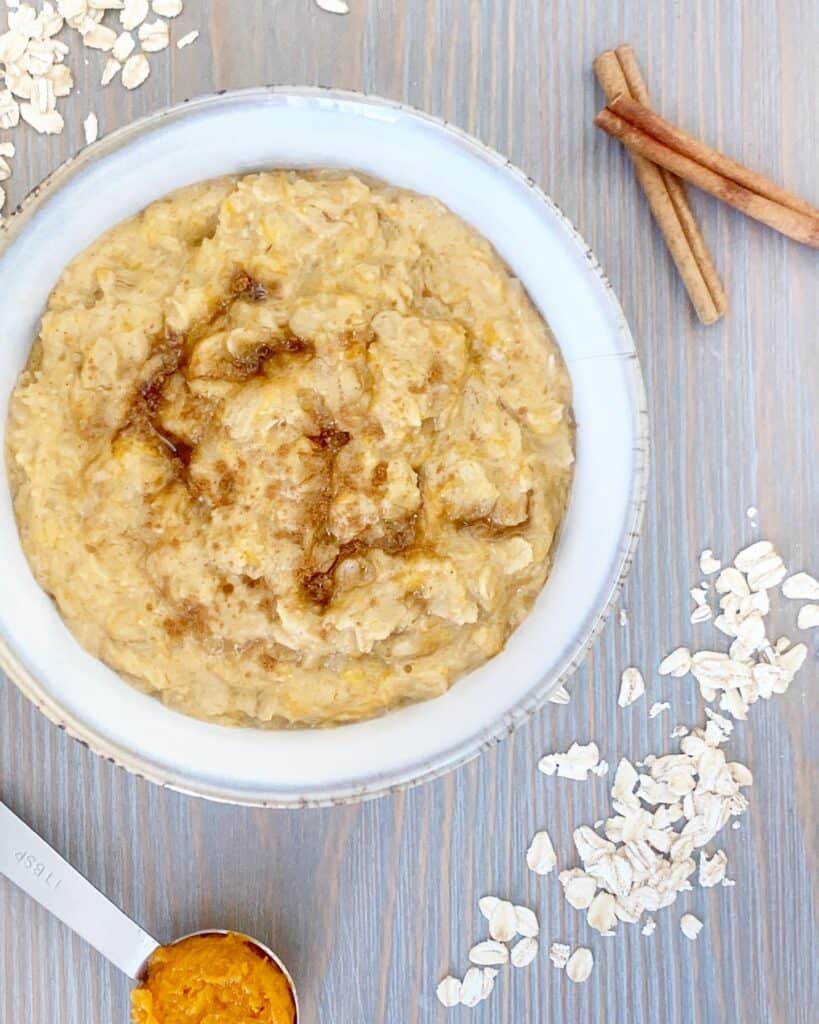 Ingredients in honeynut squash oatmeal
Old fashioned rolled oats - there are a few types of oats (steel cut, instant oats, rolled oats) and cooking time varies for each. For this recipe, I will be using old fashioned rolled oats
Roasted honeynut squash purée - you will need honeynut squash purée for this recipe. If you only have honeynut squash, follow my instructions below on how to roast it!

Ingredients

1 medium honeynut squash
1 tablespoon of olive oil
1/2 teaspoon salt

1. Preheat oven to 400 degrees F.
2. Slice the honeynut squash in half, lengthwise. Scoop out seeds and discard or set aside to roast as you would pumpkin seeds.
3. Drizzle oil and salt on the honeynut squash, evenly. Set cut sides down on a small baking sheet and place in the oven for 15-20 minutes
4. To test the doneness, use a fork to prick the honeynut squash. If it slides in like butter, it is done. Remove from oven and scoop out the inside of the honeynut squash. Although the skin of honeynut squash is thin and edible, I left it out of this recipe to ensure a smoother consistency
5. Optional: place roasted honeynut squash in a food processor and blend until smooth

Dark brown sugar - the deep flavor of dark brown sugar vs regular sugar really helped to tie in the flavors and combine the honeynut squash and oatmeal
Unsweetened almond milk - this can be substituted for regular whole milk, 2%, skim, or water. I do think, however, the almond flavor of almond milk adds a little more nuttiness to the honeynut squash
Salt - even the tiniest pinch of salt will help to elevate the flavors of this oatmeal and keep it from falling flat
Cinnamon - the coziest of spices to really make this oatmeal feel like Fall
Print Recipe
Creamy and Nourishing Honeynut Squash Oatmeal
The perfect breakfast oatmeal for your Fall morning!
Ingredients
2

cups

Unsweetened almond milk

1

cup

Old fashioned rolled oats

1/4

cup

and 2 tablespoons roasted honeynut squash purée

3

tablespoons

dark brown sugar,

packed

1 1/2

teaspoon

ground cinnamon

2

tablespoons

pure maple syrup

pinch

salt
Instructions
In a small saucepan, combine almond milk and salt and bring to a boil.

Add in oats and reduce to simmer. Stir occasionally until the oats have absorbed most of the liquid, about 5 minutes.

Once the oats have absorbed most of the liquid, remove from heat. Add in honeynut squash purée, dark brown sugar, cinnamon and maple syrup. Stir thoroughly to combine. Top with additional brown sugar and cinnamon as desired. Serve warm and enjoy!