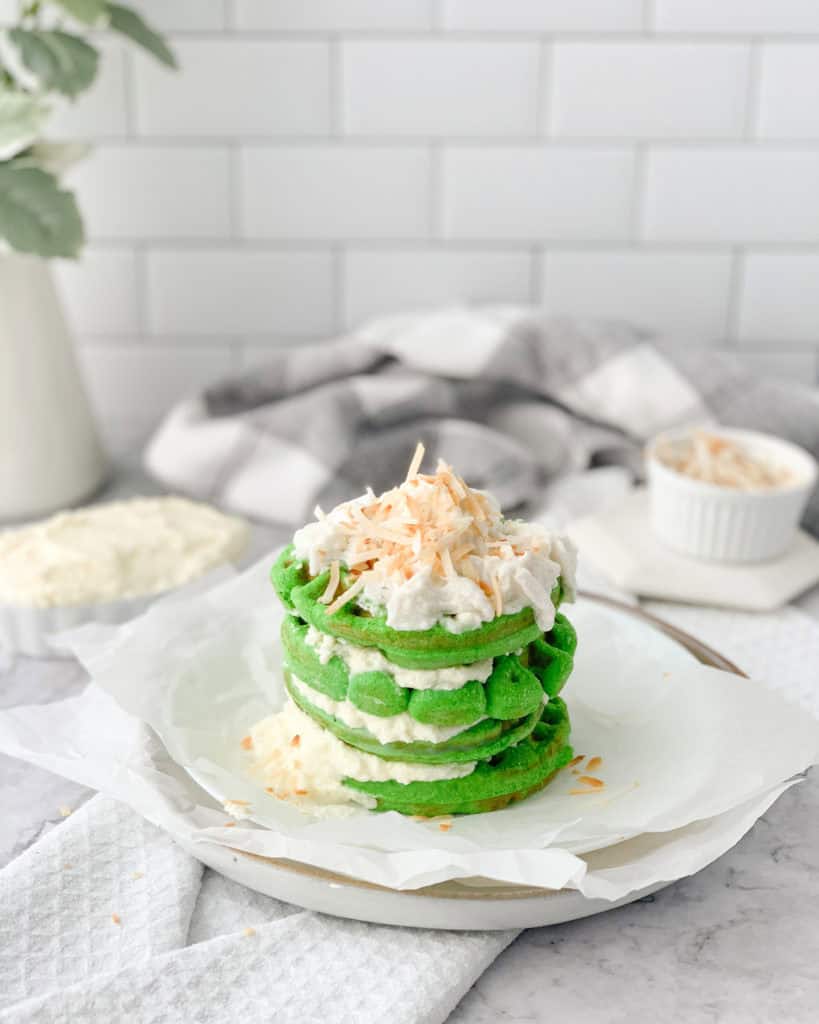 St. Patty's day is right around the corner and I wanted to make something festive and fun, but also healthy and natural at the same time. I'm not a huge fan of matcha, so you will rarely see me posting matcha recipes (unless it's for someone else) and I didn't want to just use green food coloring (of course nothing wrong with using green food coloring) but I just wanted to think outside of the box!
So here we have it - paying a little homage to my childhood but celebrating St. Patty's day also! Hitting two birds with one stone, maybe?
What's pandan?
Pandan is a tropical plant that is mostly used in Southeast Asian cuisines. The leaves are green, long and blade-like. Pandan is often used for both sweet and savory dishes, either to add flavor to a dessert or to wrap sticky rice and chicken.
You can find pandan in a few different forms - it can be found as leaves (either fresh or frozen), an extract, paste, or even powder. In this recipe, we will be using pandan extract to make our waffles. I found pandan extract at my local asian supermarket. If you aren't able to find any pandan extract, you can try substituting it with some vanilla and coconut extract along with green food coloring if the color is what you desire.
The use of pandan extract in Southeast Asian desserts is similar to the use of vanilla extract in desserts all across the rest of the world. Pandan has a vanilla-like flavor with coconut notes, which is why I suggested using vanilla and coconut extract in substitution of pandan extract. I, however, have not tried this yet.
If you're feeling extra ambitious and are able to find pandan leaves, you can make your own pandan extract by doing the following:
In a high-powered blender, add roughly 20 pandan leaves (chopped into 1 inch pieces) and a 1/2 cup of water
Blend thoroughly until fine
Strain the pandan leaves through a fine mesh sieve or a cheese cloth and toss the fine pandan leves
The liquid remaining is your extract!
It's just THAT easy and this is a great alternative to the pandan extract at supermarkets that have a lot of sugar and syrup in it. This homemade extract will also be great if you are trying to make these waffles paleo-friendly!
Highlights
Paleo and keto-friendly waffles; they're gluten-free and dairy-free!
A delicious and tropical take on traditional waffles
A perfect treat for coconut lovers
Ingredients for this recipe
Almond flour - make sure this is almond flour and not almond meal. Almond flour is more fine
Almond milk - I made this recipe with what I had on hand, which was unsweetened almond milk, but this can definitely be substituted with coconut milk to heighten the coconut flavor even more
Coconut flour - this will help give these waffles the texture of a waffle while remaining grain and gluten-free
Baking powder - to help the waffles rise and fluff up properly
Salt - this will help enhance the pandan and coconut flavor profiles
Pandan extract - as mentioned above, you can try substituting this with a combination of vanilla and coconut extract, but if you're just going for some plain gluten-free and dairy-free waffles, you can just use vanilla extract
Eggs - this will help to combine the almond flour and coconut flour and keep the waffle batter in tact
Monkfruit sweetener - to keep this keto, I used monkfruit sweetener but to keep it paleo, you can substitute this with coconut sugar. Of course you can substitute with regular granulated sugar too if you're not looking to stay paleo or don't have monkfruit or coconut sugar on hand
FAQs
What if I don't have a waffle maker?

You can always use this batter and make pancakes instead!

What type of waffle maker do I need?

For this recipe, I used the mini waffle iron by Dash. It's super affordable and small, so I don't feel guilty about having an extra appliance in my tiny NYC apartment. However, if you have a full-size waffle maker, this recipe might only make one large waffle. I can't say for sure, since I don't own a full-size waffle maker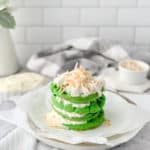 Print Recipe
Gluten-free and Dairy-free Mini Coconut Pandan Waffles
Ingredients
1/3

cup

fine almond flour

1/3

cup + 2 Tbsp

almond milk or coconut milk

1/4

cup

coconut flour

1/4

tsp

salt

1

tsp

baking powder

1/2

tsp

pandan extract,

can sub vanilla extract for plain waffles

2

medium

eggs

2

Tbsp

monkfruit sweetener,

can sub for granulated sugar

2

Tbsp

toaste coconut flakes,

optional

1

cup

coconut whipped cream,

optional
Instructions
In a mixing bowl, whisk together 2 eggs, 1/3 cup + 2 Tablespoons almond milk, and 1/2 teaspoon pandan extract.

In a separate bowl, whisk together 1/3 cup almond flour, 1/4 cup coconut flour, 1/4 teaspoon salt, 2 Tablespoons monkfruit sweetener, and 1 teaspoon of baking powder. Whisk all the dry ingredients together, ensuring to break up any clumps.

Fold the dry ingredients into the egg and milk mixture, until combined. Give it a quick whisk to break up any clumps but be sure not to over mix the batter.

Pre-heat a mini waffle iron until waffle iron is hot. Once it's preheated, spray the waffle iron with a non-stick spray (I used a coconut oil spray) and scoop roughly 1/4 cup of the batter into the waffle iron. Let it cook for 2-3 minutes or until slightly golden brown on the outside. Put it on a plate and repeat this step for the remaining batter.

Serve immediately and enjoy with some toasted coconut flakes and coconut whipped cream!